What Vegetables to Choose For Making Vegetable Pasta?
Take me back to the good ole days of unlimited pasta at Olive Garden… Without the shame or guilt after the second or third refill. Unfortunately, those days are long gone without feeling slightly sluggish, gaining some extra pounds, or signing up for a marathon. Thankfully, we have figured out how to turn vegetables into a pseudo-pasta that tastes great and we can even devour an extra serving without feeling so bad.
Many vegetables can be turned into 'pasta' with the help of some clever tools and innovative cooking methods. These veggie mock pastas are turning into a major sensation in kitchens and restaurants across the county. Here is how to use vegetables instead of pasta with some drool worthy examples…
How to Use Vegetables Instead of Pasta:
Choose a vegetable
The best vegetables to turn into pasta include: carrots, zucchini, spaghetti squash, beets, asparagus, and some other root vegetables. These vegetables work better than some others because they can be easily sliced into noodle-like forms and maintain their integrity as a noodle. For example, some vegetables that do would work as well include potatoes, corn, spinach, cauliflower, and other cruciferous vegetables because they do not maintain a firm noodle shape. If you are feeling lazy, thankfully you can buy pre-made spiraled veggies by Veggie Noodle Co. cause it taste even better when you do less work. 🙂
The best way to turn vegetables into pasta is through the use of a niffy utensil, such as a Spiralizer (check out this spiralizer review for more insight). A spiralizer turns any vegetables instantly into noodles. If you don't have a spiralizer you can use a mandolin, peeler, cutting knife, or a fork (fork only works with spaghetti squash!).
Prepare it
Vegetable noodles can be enjoyed raw or cooked. If eaten raw, vegetable's can provide a nice crunch and pleasing aesthetic style to any dish (especially salads!). If cooked, veggie noodles can be cooked relatively fast by boiling. However, note the different vegetables will require different cooking times (ex: zucchini only 1-3 minutes versus carrots about 8-10 minutes).
Drool Worthy Vegetable Pastas:
Asparagus Noodles With Peso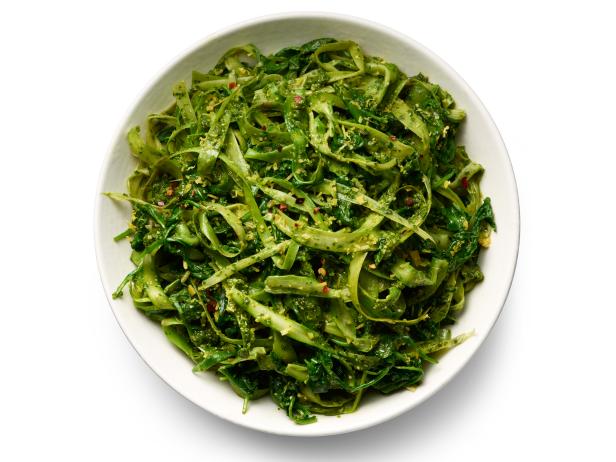 This asparagus pasta covered in pesto is a knockout dinner dish. This dish can convert any veggie hater into a lover or make any veggie lover an absolute addict. Make it here.
Carrot Noodles With Spicy Peanut Dressing
This crunchy, spicy, and creamy combo is irresistible! The carrots provide a wonderful base to soak up the decadent peanut sauce. Make it for dinner this week and get the recipe here.
Mushroom Bolognese over Spaghetti Squash
The mushrooms provide an umami, meaty texture that is complemented by the salty parmesan and crunchy spaghetti squash. It's too good to pass up. Save this recipe for next Meatless Monday.
Rainbow Vegetarian Pad Thai with Peanuts and Basil
This bright and flavorful recipe will excite your tastebuds and have you reaching for an extra serving. If vegetarian isn't your thing, throw some shrimp or chicken on top of this meal. Recipe here.
Turning vegetables into pasta is a fun way to incorporate more vegetables into your diet, change up your normal buttered noodle routine, or enhance your cooking skills in the kitchen. Get adventurous and have your own never ending bowl of psuedo-vegetable pasta tonight.